Research Project: Examining Canadian residents' experiences with language and culture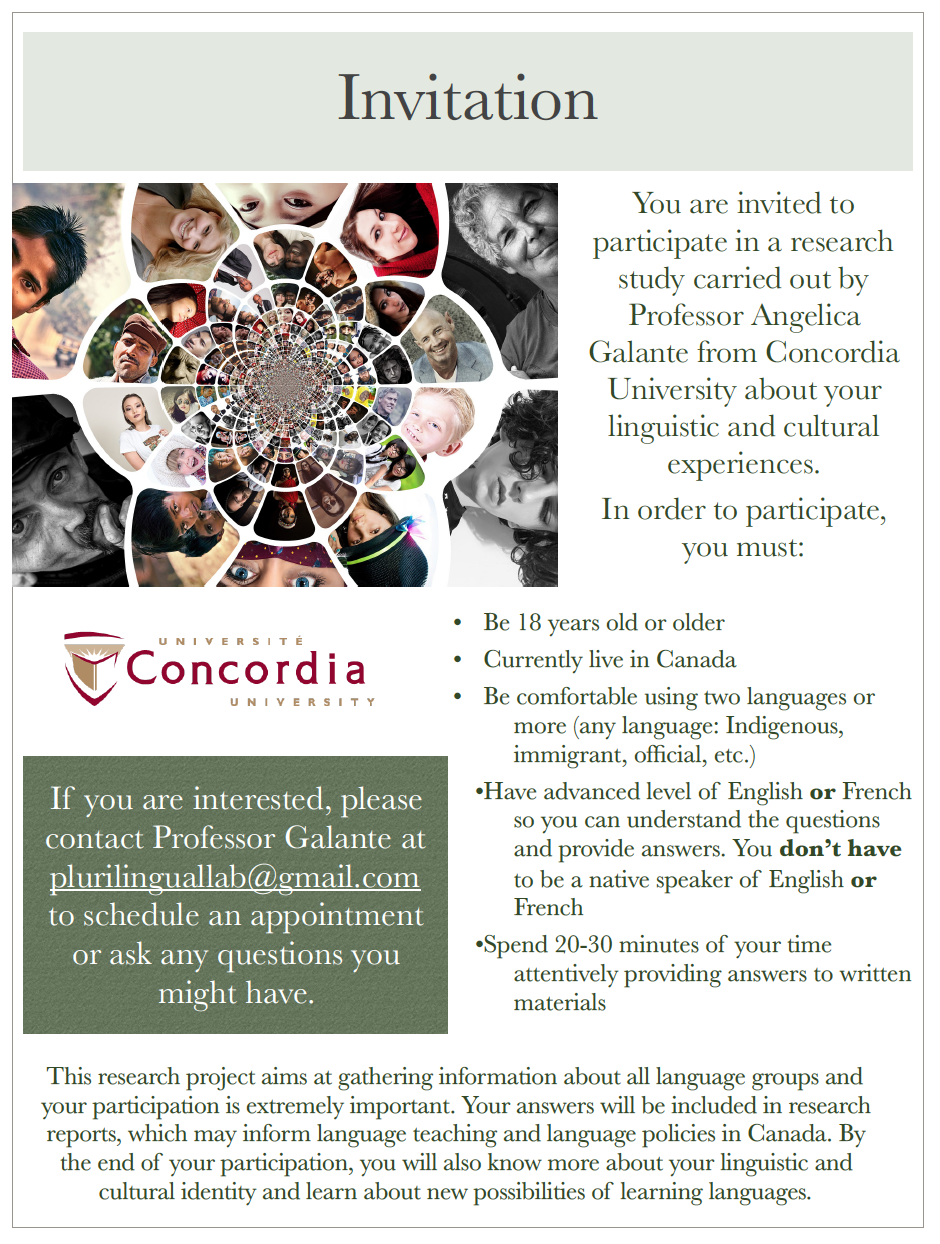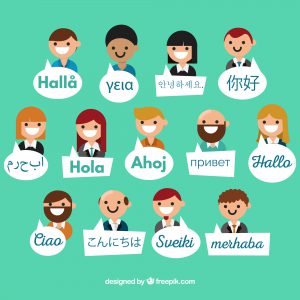 While Canada is officially bilingual—English and French—the country is increasingly becoming multilingual. The latest census indicates that there are approximately 60 indigenous and 140 immigrant languages in Canada and nearly 20% of Canadians speak more than one language at home, an increase of 13.3% from 2011 and 2016 (Statistics Canada, 2016). This linguistic diversity is inherent in the Canadian context where many residents use more than one language to communicate on a daily basis.
Learning languages in diverse contexts includes the development of linguistic competence (e.g., grammar, syntax, phonology) and plurilingual and pluricultural competence (PPC) so people can communicate effectively with others from different linguistic and cultural backgrounds. PPC is a competence that refers to the flexible use of linguistic and cultural knowledge depending on context and situation (CoE, 2001; CoE, 2018). For example, a speaker of English and Kanien'kéha may use these two languages at different times and for different purposes but may also use both languages mixed in conversation. Another example refers to accessing information in one language (e. g., reading) and producing the same information in another language (e. g., speaking). People with high levels of PPC have high levels of cultural empathy (Dewaele & van Oudenhoven, 2009), engage in critical thinking (Galante, 2018), and have agency over their linguistic and cultural repertoire (Marshall & Moore, 2017). PPC is particularly relevant in bilingual and multilingual contexts that are diverse in nature, which is the case of many cities in Canada. Thus, investigating the extent to which bilinguals and multilinguals use, mix and blend these languages to communicate with others is needed.
The purpose of the study is to gather information about the use of language(s) among speakers of two or more languages in Canada. Results will inform linguistic and cultural behaviours of this population, which will be helpful for the development of pedagogy and language policies that support and encourage Canadians to maintain and enhance their language and cultural learning.
If you're interested in participating in the research project as a participant or would like more information about it, email us at plurilinguallab@gmail.com.
References:
Council of Europe. (2001). Common European Framework of Reference for Languages. Strasbourg, France: Council of Europe Publishing. Retrieved from http://www.coe.int/t/dg4/linguistic/source/framework_en.pdf
Council of Europe. (2018). Common European Framework of Reference for Languages: Learning, Teaching, Assessment-Companion volume with new descriptors. Strasbourg, France: Council of Europe Publishing. Retrieved from https://rm.coe.int/cefr-companion-volume-with-new-descriptors-2018/1680787989
Dewaele, J-M., & van Oudenhoven J. P. (2009). The effect of multilingualism/multiculturalism on personality: no gain without pain for third culture kids? International Journal of Multilingualism, 6(4), 443–459.
Galante, A. (2018). From monolingual to plurilingual: Toward a paradigm shift in TESOL. TESOL Convention's Applied Linguistics Interest Group. Retrieved from http://newsmanager.commpartners.com/tesolalis/issues/2018-10-02/3.html?fbclid=IwAR2sK4Bq5JEWHLzKUiphJFJSehbugOuIWTHBuai54cMh8aUuVUBAlMkavq0
Marshall, S. & Moore, D. (2018). Plurilingualism amid the panoply of lingualisms: addressing critiques and misconceptions in education. International Journal of Multilingualism, 15(1), 19–34.
Statistics Canada (2016). Linguistic diversity and multilingualism in Canadian homes. Retrieved from http://www12.statcan.gc.ca/census-recensement/2016/as-sa/98-200-x/2016010/98-200-x2016010-eng.cfm
Picture designed by Freepik: https://www.freepik.com/free-vector/flat-people-with-words-in-different-languages_2554230.htm